The presentation is a very complicated and costly way of communication. It requires time, efforts, creativity and what is worse, it may not work if you have missed at least one important component. At the same time if a presentation is well-thought-out and properly organized it turns from being costly into being cost-efficient. Here are nine steps to create and deliver a professional business presentation, which will astonish your audience.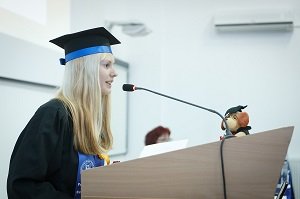 Telling a Story
Step 1. The goal should be clearly stated, written down and followed at every further step. Never start with asking yourself questions like: "What will I be talking about?", "What is the best first line for this presentation?", "How to capture attention?" Primarily you should determine your goal. Your goal is an answer to the question: "What do I want my audience to do after I finish?" You might want to be promoted, or hired, or receive a great mark for your project, or make people buy your product, invest money in your startup, you name it.
To do: Determine your goal and write it down.