It's probably debatable that a person can improve his/her English writing skills by watching a movie. Indeed, it is absolutely true that you can improve your vocabulary, grammar, and pronunciation by doing just that – watching TV.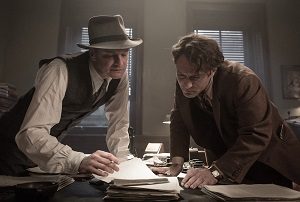 Not All Movies
Of course, there are some movies and some Hollywood-produced films that would rather improve your usage of different cursing than will make you a master in English writing!
Genius
A movie that has captured the imagination recently is the Michael Grandage-directed film Genius, starring Colin Firth and Jude Law. The film is based on a story about a man called Maxwell Perkins, a book editor, and his relationship with a writer Thomas Wolfe. Both have their eccentricities, and their ideas and feelings were bound to fight with each other. It is the dialogue that makes the movie a 'must see'. Moreover, it can help improve your writing skill. Let's see how.