A wedding is one of the most important days in our lives. You're usually so busy preparing for this day that you may not even have time to write a wedding speech. In this case, you need some help. Of course, you can refer to any number of wedding speech writers to create it for you, but it's better to craft your own. If you want to create a masterpiece, you'll need to know what you're shooting for. Take a look at this sample groom's wedding speech to get some ideas for your own one.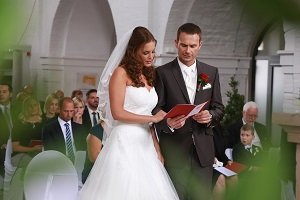 I want to begin today by saying that I would never have been standing here if it were not for my friend Jake. He introduced me to Elena at the beginning of my sophomore year, and although Jake couldn't be here today since he is currently serving his country on a deployment with the Air Force, he's the reason for my greatest happiness.
Over the past few months, my beautiful wife has been searching for the perfect dress. She visited stores, she looked online, she even went to a theatre sale trying to find just the right thing. It happens that our community theatre has several wedding dresses that they are getting rid of at a great price, and those who know Elena and me, know how much we love getting great deals. But when Elena came home and told me that she'd found the perfect dress at the theatre sale I couldn't help, but keep picturing something from The Bride of Frankenstein. Elena looks good in anything, but I didn't want to have to paint my face green to match. When she walked in today, I knew that my fears had been in vain, because I saw walking toward me the most elegant, exquisite woman in the whole world – and she found the perfect dress to make me feel that I'm the luckiest man alive.
Naturally, I also want to thank Patricia and Kevin for the way that they've made me feel a part of the family. They've welcomed me with open arms and just a couple of shotgun jokes since I first came home with Elena for Thanksgiving and that's not something that everyone is lucky enough to have. Since I lost my own parents three years ago in a car accident, it's been hard to feel alone in the world, although my brother Greg has been a great comfort to me, and I'm grateful to have him as my best man today. He really is the best man that I know. I wouldn't have said that when he was stealing my girlfriends in high school with his devilish good looks, but now that I have Elena, it's just as well he did. Having him here by my side is an honor and I'll be proud to do the same next year when he marries Kate.
I will also be remiss if I do not thank Elena's bridesmaids, Rania and Tamika. They have not only stood by Elena and done everything from lending her jewelry to finding us cheap airline tickets to Bali, but they've taken a lot off my shoulders helping to plan the honeymoon and getting us the best caterer around town. Just as we've had so much help planning this day and getting here together, we feel that we have all of you supporting us as we begin married life together, and we're grateful for you all. Thank you so much for being here and for helping us become the people that we are today.
References:
Bell, S. (2016, June 07). 7 Tips for Avoiding a Wedding Toast Disaster. Retrieved December 27, 2016, from http://www.nytimes.com/2016/06/12/fashion/weddings/7-tips-for-avoiding-a-wedding-toast-disaster.html?_r=0
Busfield, S. (2010, July 13). A man's guide to marriage: the speeches. Retrieved December 27, 2016, from https://www.theguardian.com/lifeandstyle/2010/jul/13/mans-guide-marriage-speeches
Ehrenfeld, T. (2009, November 21). To the Happy Couple, and My YouTube Clip. Retrieved December 27, 2016, from http://www.nytimes.com/2009/11/22/fashion/weddings/22FIELD.html
Feiler, B. (2012, June 16). The Art of the Wedding Toast. Retrieved December 27, 2016, from http://www.nytimes.com/2012/06/17/fashion/the-art-of-the-wedding-toast.html
Feiler, B. (2015, June 20). Turning to a Ghostwriter for a Personal Toast. Retrieved December 27, 2016, from http://www.nytimes.com/2015/06/21/style/toast-whisperers-ghostwriters-personal-speeches.html
Foster, B. L. (2016, June 07). It's a Wedding Toast. What Could Go Wrong? Retrieved December 27, 2016, from http://www.nytimes.com/2016/06/12/fashion/weddings/its-a-wedding-toast-what-could-go-wrong.html
Gladwell, M. (2014, August 09). Malcolm Gladwell: how I ruined my best friend's wedding. Retrieved December 27, 2016, from https://www.theguardian.com/culture/2014/aug/09/malcolm-gladwell-how-i-ruined-best-friends-wedding