CBSE Maths Paper: The Advanced Guide to Write as a Professional
Annually, students face the necessity to pass the exams, one of them is CBSE Math paper. Such an assessment is organized in Indian schools but in a few countries as well. To get to know how to pass it successfully, of course, it is necessary to study hard, but sometimes due to different reasons, students may not accomplish this goal. But, there is no need to be desperate. Here is the ultimate guide to what is this paper for, and how to prepare for it with no trouble. By the way, if believing the results received in March when CBSE in Math was ongoing, students said it was easier than expected. So, let's overview of the basics, and join the ones who passed it with an excellent grade.
CBSE stands for The Central Board of Secondary Education. It is a curriculum that regulates some of the educational rules and approaches. For example, it requires the usage of textbooks and controls that any child should not fail a class at least until 8th grade. Also, CBSE controls the entrance admission exams and helps to establish the standards of education for such subjects as Humanities, Geography, Mathematics, Biology, and many others.

When speaking of Math subject, many tricks deprive children of passing it successfully. Thus, we prepared some tips and examples that will make the procedure of writing easier.
Maths Sample Paper: What Are the Requirements?
Unfortunately, there is still no revealing of the tasks to such a paper in advance. On the other hand, any person can find examples of questions from the previous years, and at least to imagine what will be there. As for the regularity of writing a Math paper, it may differ from other exams only by its continuous assessment that is held throughout the year.
When passing this exam, a student can score up to 80 marks. But, to proceed to the next education level, a person should get a minimum of 33 marks. All the topics that are involved are Algebra, Functions along with Relations tasks, Calculus, Vectors and Geometry, Linear programming, and probability. All of the questions solely concern the school program, but some tasks may be challenging. Thus, it is better to opt for a private tutor.
Then a paper is categorized by question forms; the whole writing consists of 30 questions divided into an A, B, C, D groups. There are very short, short, and long answer questions. Accordingly, you may get the next marks:
| | | |
| --- | --- | --- |
| Section | Questions Quantity | Marks per correct answer |
| A | 6 | 1 |
| B | 6 | 2 |
| C | 10 | 3 |
| D | 8 | 4 |
However, the new changes are to apply for the assessment in 2020. They are connected with further students' specialization. For example, those who will continue their studying with Math-related subjects will need to pass Math-Standard, while those who pursue a different educational degree, will pass Math-Basics. However, an exam pattern is the same. Of course, the standard course will involve more complicated tasks and the program that covers not only school-presented knowledge. So, it is better to turn to a private tutor.
| | | |
| --- | --- | --- |
| Section | Questions Quantity | Marks per correct answer |
| A | 20 | 1 |
| B | 6 | 2 |
| C | 8 | 3 |
| D | 6 | 4 |
Besides, the CBSE prepared an official example of Math papers of passed 2019 examination. When redirected to the website, just choose Mathematics subject. And, also there is a full description of the requirements of Math paper examination.
What to Revise? Step-by-step Guide
Let's overview what type of tasks you should be aware of. And, also here is an explanation of the main topics, a student should revise. Beware, even though the questions, along with the tasks, are changing every year, almost all tasks are similar. So, when learning a basic program, pay attention to solving them simultaneously. It will help to get a habit of practicing, and your paper will be finished before the expiration of a dedicated 3 hours.
The first group of questions will belong to types of relations. It is necessary to demonstrate knowledge in transitive and equivalence relations. Besides, do not forget to revise the inverse of a function, and composite along with one and onto functions. The second unit of this group relates to inverse trigonometric functions. There are graphs and elementary properties.
Algebra will involve matrices, determinants. Here is a must to revise concept, identity matrix, uniqueness of inverse. Then, deal with the determinant of a square matrix, inconsistency, and, for instance, with several solutions to the system of linear equations.
Calculus will include the tasks connected with differentiability, derivatives, integrals, and differential equations.
Vectors and Geometry tasks deal with vectors and scalars, the direction of a vector, and accordingly with the direction cosines.
Linear Programming is for constraints, optimization, and different types of LP.
And, the last one Probability that will oblige students to demonstrate the knowledge in probability, understanding the multiplication theorem on probability, solving independent events tasks, and, for example, on total probability, and Bayes' theorem, etc.
These are the examples of CBSE Math Paper in 2019.


Section B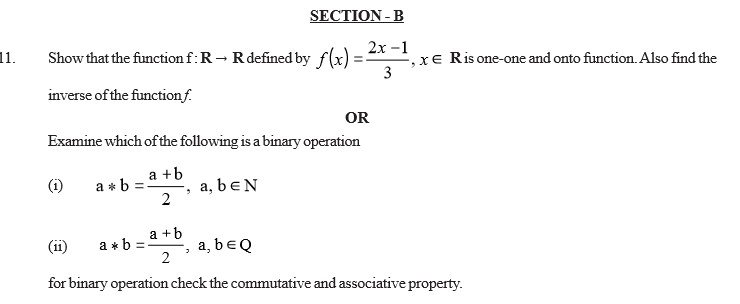 Section C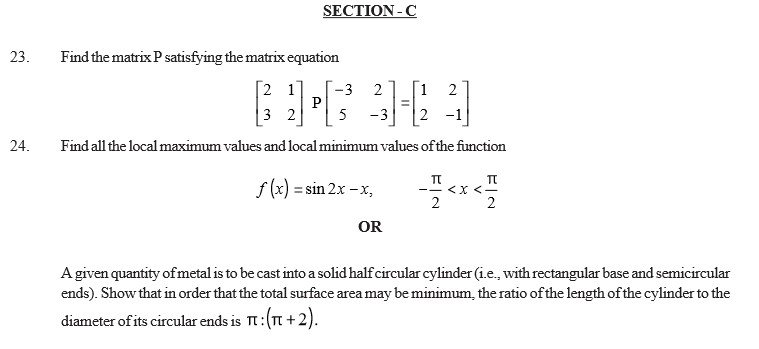 If you can solve these tasks, proceed to the sections of the hard task.
What Are the Tips on Writing CBSE Maths Paper?
Usually, some students seek the best way to finish this examination before time. Thus, it is required to have some keys in pockets and be ready to face any task mentioned in the paper. Taking into consideration the results from previous years, and feedback of students, here are some tips on writing it successfully.
Learn the pattern. Again, even if you know everything about the Math, or you think so, learn how the assessment will look like. On the Internet, there are hundreds of ready examples with solutions and even instructions on what to pay attention to. Of course, a chance that the same task will be repeated in CBSE Math Paper 2020 is minimum, but at least the pattern of tasks is similar to the previous years.
Prepare a strategy. Work on the weak points in Math. The above-mentioned information disclosed the topics for this paper, so dedicate them 1-2 hours daily to revise the formulas or rules. For example, today, work on linear programming, tomorrow proceed to the relations and functions.
Divide the tasks. When you are already in the class and have to pass such an assessment, use the first 15 minutes to look at the tasks. So, while observing the paper, mark each section as easy, medium-hard, hard one. Then, it will be much more practical to understand where you should start first and what to leave for later.
Reread the question. It is not a rare event when some questions may hide the answer. At first, it looks like an easy task, but you may end up following their trick. Reread the question a few times, find out the answer, and when revising the whole paper, read the hard questions one more time.
Track time. Failing to track time is the most common mistake among the students. For example, they spend 1 hour out of three just dealing with one section. Train at home with examples of previous years, and come up with an idea of perfect timing to dedicate to each section.
And, the last advice is never to skip the task if you do not know the answer. Try to guess if it is right; you will get a good point. If no, so, at least you tried.
What Are the Sources to Rely on When Preparing for a Cbse Math Paper?
Need more tips on preparation for this assessment? We prepared a few groups of helpful sources to accomplish this task. Check them out.
Youtube sources. This group is perfect for those who are more visual learners. When reading the theory and observing no pictures, it may be a challenging and time-consuming activity. Informational videos may help to prepare for the writing.
CBSE Class X Maths Board Paper 2019 solutions. The speaker shows examples of how to solve the tasks.
Solution of class 10 maths Question paper 2019 CBSE board. Again some solutions on the tasks from CBSE maths paper 2019.
Math paper Tips. A speaker explains the common rules when composing writing.
Guides. First off, check the online lab of manuals. The guides are divided into classes. Then, you may also refer to the next helpers:
Er Masroor. (2019). CBSE 10th Maths Exam Guide.
Aparna Dwivedi. (2019). Binomial Theorem: Mathematics for JEE and CBSE.
And, at last, there is a list of an official FAQ about this Math Paper.
If still failing to prepare for the Math, turn to our professional academic writers that can meet the deadline and provide you with excellent grade work. All you need is to send your "write my paper" request to our service. There are plenty of writers who know how to write such assessments. Keep in mind, of course, they will not write for you the exam, but the qualified samples and examples with solutions of CBSE maths paper will be guaranteed.