7 Surprising Skills Needed to Be a Writer
Writing, the simple demonstration of putting pen to paper, is challenging enough all alone. However, most writers have no issue investing in the creative effort. At the same time, the work that accompanies writing for a living might trap you in.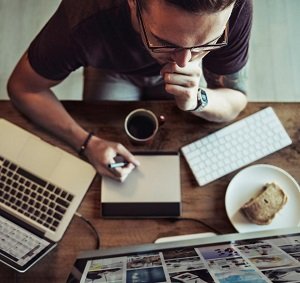 Beyond creativity, here are 7 surprising skills needed to be a writer.
Social Skills
All writers are not introverted, but many absolutely are. It can be a tough obstacle to overcome. However, social skills are a necessity when you are attempting to convince others in your capacity to communicate with words. Do not be afraid to network, embrace the social media, and speak up. Don't be ashamed to ask for opportunities, either. You may be astonished at the power of social skills and earn considerably more.
Time Management Skills
As a writer, you need to figure out how to partition your time to cover every aspect of maintaining a writing business. You also need to resist giving in to the myriad of potential distractions around you, especially because you can't exactly turn off Twitter and email if you use both for work.
Resourcefulness
Writing does not come with a standard blueprint. Few professional writers have a degree in writing, while some don't. There are numerous cases when writers are landed jobs because they have friends who are writers, others are hired because they launched a blog that got to become popular. The truth is, for everyone, the specifics are different. As a result of this, working with the opportunities, abilities, skills, and experiences that unique to your situation is imperative. In two words, be resourceful.
Marketing Skills
One great example of the power of resourcefulness is Author Ahyiana Angel who didn't have any professional experience in writing. But she did have marketing skills as a former publicist, and she optimized them, basically becoming her own publicist. This won her opportunities to become published by Simon and Schuster. A mastery of marketing is important to break into freelancing or earn some cash with your writing. Branding, search engine optimization (SEO), guest posting and pitching are a few marketing skills you should familiarize yourself with.
Thick Skin and Fearlessness
Get over wanting to be cool, creative, smart, important, wise, a huge success, a great writer, or any ego-dominated idea that is really just a tool for staying away from shame and humiliation.  Any writer will tell you "thick skin is an absolute necessity." To get over any sensitivity, don't be afraid to be humiliated, terrible, be a beginner, share your work, be ready to embrace criticism, persistent, and to override and reset the primitive controls and autopilot for courage.
Think and Feel Like Your Audience
Be a psychologist, observer, and therapist, who can find out how and why people feel and think the way they do. Creating an original character implies that you need to take some necessary steps of coming up with his or her characteristic traits. You must get in their head and see why they do what they do. For becoming an incredible observer, you should be interested in human thinking patterns, and what is hindering people from being their best selves. See this as your job and obsession.
Creativity in Making up Worlds that Don't Exist
You have seen Lord of the Rings, Alice in Wonderland, and Star Wars. Those are not only talents but practice. We can all pretend, but only if we can get away from that intelligent, logical and critical part of our brains that doesn't want nonsense to thrive. But what is nonsense all about if not imagination. That is what makes it so wonderful. Practice seeing your writing on paper regularly to strengthen it, particularly if you are relishing your magical and illogical creative ability. These will help you launch a professional writer career when you have zero work experience, and make you standout.