7 Fast and Nutritious Breakfasts for Students With Recipes
According to George Bernard Shaw, there is no love sincerer than the love for food. I could not agree more. Food is the one tool that can make up warring parties and make you forgive the greatest sin. It is vital to watch what you consume because the effects could be very affirmative or equally dire.
As students, food is particularly very important because the metabolism of a student is very high. Most students skip breakfast, not knowing its effect on their bodies. Breakfast is the most important meal of the day, so how about I offer a hand with some quick, nourishing recipes. The goal is simple, to dine like kings, so let's get to it. The following are fast and nutritious breakfast recipes for you.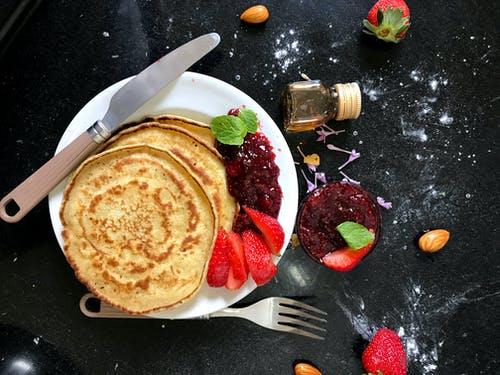 1. Egg and vegetable muffins.
Hold on, don't judge them too quickly just because they include a bit of vegetable. If you'd see them, you'd want to try them out. This kind of breakfast would be an easy recommendation because of how full, it keeps you throughout the morning. Not to mention the plenty of godsends eggs have on your body. Eggs have antioxidants like lutein that improve brain and eye health. With this kind of breakfast, you'd have knocked two birds with a single stone, whereby you'll be excellent and Maths and equally healthy.
To prepare this, mix eggs, salt, pepper, and some vegetable of your choice. Place the mixture into greased muffin tins and bake them at 200 °C for 12-15 minutes. There you have your delicious muffins.
2. Overnight oats.
Breakfast does not have to be the standard sandwich and coffee. Add some little pepper to your life, so how about we have some whole grain. There is a long list of whole grains you could choose from. You may have brown rice, whole wheat, sorghum, or millet. The emphasis is on whole grain. This is because they have so many nutrients, unlike refined grains. A good choice of a go-to whole grain for breakfast is oat. Oats are very rich in fiber, protein, vitamins, and minerals, and this is how you should start your day.
Place 1/4 cup of oats in a mason jar and add 1/2 a cup of milk of your preference to it. Add the topping of your choice; the list is endless. For example, you could add crushed groundnuts, chia seeds, dry or fresh fruit; the option is yours. Leave the mixture in the fridge overnight and let the oats soften. Be sure to wake up enthusiastic about your breakfast.
3. Peanut Butter chocolate sheet pancake.
Of course, this article would be bland if I didn't add a bit of Peanut Butter. Pancakes are wondrous; I am sure everyone agrees, but are they not the most cumbersome? You may be craving chocolate pancakes, but do you have the time to keep flipping them? So how about one giant pancake.
Mix 1/2 a cup of all-purpose flour, two teaspoons of baking powder, a teaspoon of salt, 1/2 a cup of buttermilk, two large eggs, some sugar, chocolate chips, peanut butter powder, and vanilla extract. Pour the medley into a hot oven pan. Bake for 13-15 minutes until golden brown, and a wooden pick is clean. Serve with yogurt and syrup if desired. Now all that is left is to relish in the work of your hands.
4. Blueberry banana nut smoothie.
A fit, healthy body is the best fashion statement. Fruits scream nothing but an abundance in health. Starting a day with some fruit will prove an absolute plus to your disposition. Who would not like to start the day with some smoothies? A combination of blueberry, banana, and nut could almost cure a broken heart.
Get your blender ready; it's time for some smoothie! All you need is some liquid like water, milk, juice or yogurt, blueberries, chopped-up ripe bananas, and sweetened almond milk. Add the ingredients into a blender and purée until smooth. You may add some crushed nuts to your smoothie if you want. Now be ready to start your day.
5. Egg and sausage breakfast bake.
How about some sausages for breakfast? You can never go wrong with some protein for breakfast. In the light of dining like kings, eggs and sausages may be the way to go.
Heat your oven to 400 °F. Roast the sausages and some bacon for 15 minutes. Toss some mushrooms, tomatoes, and garlic, season with some salt and pepper, and let it bake for ten minutes. Crack up some eggs and let them cook. Pair it with some juice and enjoy your savory breakfast.
6. Smashed avocado toast with egg
Avocado is a yes anytime! Why not play around and experiment on what you can do with it. Toast pairs so well with avocado. Adding some eggs, now that's zesty. Avocado is always good for your health. It solves skin problems, protects your eyes, and prevents heart attacks.
Smash avocado with lemon juice and 1/4 teaspoon each salt and pepper to make this. Spread on toast and top with eggs and radishes, and sprinkle with chives and sesame seeds. Have this unique combination with the beverage of your choice. Be sure to prepare it once more because of how scrumptious it is.
7. Breakfast burritos
Some burritos for breakfast? Yes, please! Make an avocado-tomato salsa by dicing the avocado and tomato into a bowl. Add some coriander and any other ingredients you prefer, then mix them. In a separate bowl, crack some eggs and mix with paprika and salt. Place some chopped sausages in a pan and cook on medium heat until brown.
Add the eggs and stir them until they are ready. Assemble the burritos; spoon about 1/4 cup of the avocado-salsa on each tortilla. Top with a quarter of the sausage and a quarter of the eggs. Add some cheese, then fold the sides of the tortilla over the filling and roll, tucking in the edges as you go. Cook the burritos in a pan with some oil while flipping them over. That's it; they are ready.
Conclusion
Your health is your insurance; guard it. Be ready to dine like a king with the given recipes because, why not. You deserve every bit of it. Go forth and let food be your medicine, and medicine be your food.