Why to Ask a Professional Resume Writer to Dish up Your Personality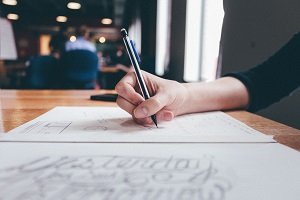 When you want to find a job, you need to be able to showcase all the skills that prove your erudition. This means that you have to provide the employer with a great resume. However, resume writing can be a bit tricky, especially, if you do not have much experience with it.
You have to highlight all your skills that make you a qualified applicant, without being tedious. It is quite a difficult issue, but there is nothing impossible.
Luckily, there is a solution – you can hire a professional resume writer to help you out. There are some benefits that you are going to gain, while working with a professional writer.
Proper Structure
While there are several guides on how to structure your resume, coping with it on your own can be quite hard. Resume requirements change every few years or so, meaning that you may not meet all of them if you do not have the recently published guideline.
But, by working with the expert, you can bypass this problem. Professional CV writers surely obtain up-to-date formatting and structural requirements. Additionally, these people have so much experience with resumes that it will take them little time to complete the masterpiece. As we see, asking for the writer's help is really convenient and saves you a lot of time.
Key Information
When most people try to write their own resumes, they struggle to figure out which information should be included and which should be omitted. Many people pad their resumes with too many irrelevant details.
The professional writer will not make these mistakes. He/she will ask you several questions to find out everything that should be covered in the resume. In a while, they craft an effective resume that showcases all your best and most important qualities.
No Mistakes
Did you know that a resume, containing even a few tiny grammatical errors and spelling mistakes can prevent you from getting a job? Employers look for any faults and often disqualify candidates if there are the run-on sentences, or if the punctuation is poor.
If you hire a professional writer for your resume, you can be sure that he/she will proofread the document multiple times, until he/she is sure that it is completely correct. By the time the writer submits the final version to you, your resume will be well polished and perfectly written.
Therefore, when it comes to job hunting, there is no time for self-activity. The marketplace is highly competitive and employers are very discerning while reviewing candidates. Thus, you have to be as reinsured as possible in order not to get a dozen of 'we will call you'.
Because of this, it makes sense to hire a professional resume writer. In this case, you are not uptight that your resume is not good enough to get a prestige job. Remember that it is always a good idea to save some money and to tackle the paper on your own, but, if we are talking about the document that is going to push your career path, it's not the item to risk.