20 Geography Dissertation Topics to Call Your Audience to Action on Summer Holidays
One of the most important choices you will ever make in your academic career is the topic for your dissertation! John Komlos, a university professor, in the Chicago Guide to Your Academic Career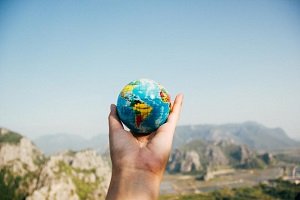 advices to take a balanced approach to the choice of dissertation topics. As you you're supposed to deal with a kind of work for a long period of your student life, it will have an impact on the direction of a future career.
In fact, choosing a topic is a challenge for most students. And you may be at a loss for what topic to choose, or you haven't found any good ideas yet. Don't get worried! There is a solution, and you have found it in this article. The key point is obvious: it has to be something you feel passionate about. You can be eager to write a dissertation on something that holds personal interest for you.
A dissertation is too labor intensive. If you are stuck or looking for inspiration, you're moving in the right direction. We have done some brainstorming with topics for your dissertation! The following ideas can match or be adjusted to your interests. They are very flexible! Here are 20 geography dissertation topics:
The Earth's Tilt is Changing: The Reasons, Causes, and Effects
Does the Climate Change Mean an Everlasting Summer?
Water and Air Pollution: How Do They Change the Environment Each Summer
Caribbean Coral Ecosystems Are in Jeopardy
Why Are Natural Environmental Hazards Becoming More Common in Summertime?
How a Change in Air Pressure Influences a Change in Climate
The World's Oceans Getting Warmer: Is It Going to Affect the Population?
The Solar Energy Issues in India
World Migration Report 2018 Shows Ill Conceived Facts
Why Could Subregions of Europe Experience Scorching Summers?
Petroleum Extraction Is the Worst Thing for Our Summers
Are Fires in Latin America Affecting the Landscape?
Weather Forecasting Technological Advantages in the Modern World
How Extraterrestrial Seasons Show Our Future
Fertility Rate Increases Every Summer in America: What? and Why?
The Hazardous Waste: The Realistic Solution
Summer Droughts Can Decimate Cities Without Proper Planning
Differences in Asian Cultural Identities Because of Geography
Endangered Languages in Europe Need to Cross Borders to Survive
Why Are People Conditioned to Care Less About the Environment in the Summertime?
As you can see, almost all of these topics are related to summer in some way. This word used in dissertation topic will help keep your reader interested! Everybody loves summer, especially, summer holidays. These are a good way to keep people interested and keep yourself motivated when writing! It's important to choose a topic that other people enjoy, otherwise, you will not catch their interest.
Did you see one you really liked? Don't worry if you didn't, but hopefully, you did. Now that you have these topics in mind, you can come up with your own in an easier way. Feel free to combine one of these with something you have already thought of. Either way, you have come out a step ahead considering a topic.
If you do like what you see, then, it is time to get started! The next step is either to create an outline or get expert help from a good writing service. That will ensure that you are headed in the right direction towards a great dissertation. Good luck with the writing process. It is a big undertaking for sure!